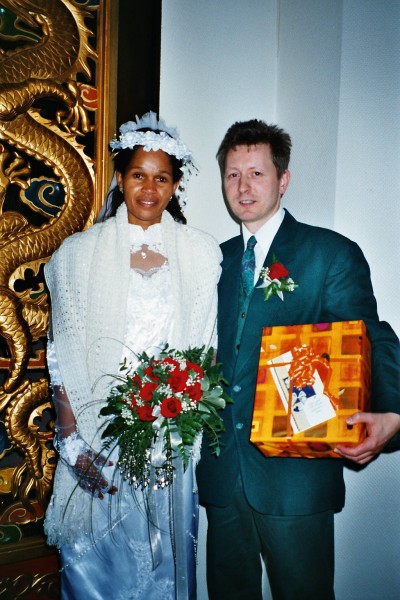 ... which took place on the 22nd and 23rd of November 2002 !!!

Click here for our report and more photos!

We received the decision of being accepted only on 13th of Nov.
So we were able to have civil marriage in Tønder/Denmark on the 22nd of Nov. after staying there from the 18th of Nov.
Then on Saturday, Nov. 23rd we had wedding at church in Lüneburg/Germany.
Thanks for all relatives and friends who joined us for our wedding celebration in Lüneburg. We received wonderful gifts. Special thanks to Max' parents who made this possible at all !!!
Next year we will have another reception for all relatives and friends in Nairobi/Kenya.
Check our photo album with plenty pictures of our wedding right here.

We have chosen Matthew 19:6 as our marriage verse: "So they are no longer two, but one. Therefore what God has joined, let man not seperate."

Feel free to write us your wishes and comments into our wedding guestbook!

For more about us browse the other pages of this website.


last update: Dec. 07, 2002

Diese Seite in deutsch anzeigen.